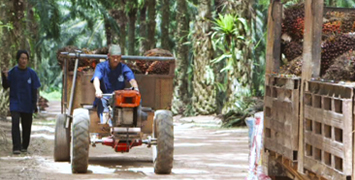 Vichitbhan Palmoil Public Company Limited was established by the Chavananand family and incorporated as a registered company on March 25, 1987
to operate the production and distribution business of crude palm oil in Chumphon province. Inspired by the interest in the palm oil industry, considered as one of the most successful businesses that can strongly maintain a sustainable growth based on the basic needs for consumption and utilization regardless of the upward or downward trends of the national economy, or the increase in consumption trend, population size and demand for alternative fuel.
the company has realized the significance and potential growth of a valuable economic crop generally grown in the south of Thailand
known as oil palm
Additionally, the company holds
Vichitbhan Plantation
Company Limited
VPP

VG Energy
Company Limited
VGE

Vichitbhan Logistics
Company Limited
VBL
100 percent of the issued and paid-up registered capital, where VPP takes part in the oil palm plantation business, VGE operates the business of renewable energy from recyclable waste provided by a palm oil factory and VBL is engaged in the transportation of crude palm oil, palm cluster, palm seed, treated water and other related businesses.